Fix Computers

Computer Repair Didsbury, IT Support
07745156370
Fix Computers also offer onsite computer support in your home or business in Didsbury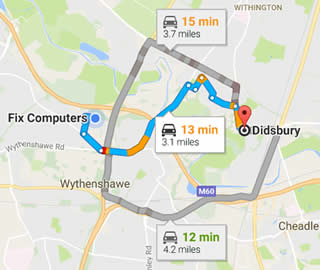 We are available 7 days a week at times to suit you for onsite computer support in Didsbury. If your computer problem is a simple one, we can fix your computer or laptop in your home or business. If it is a bigger problem that needs fixing in our workshop we can collect and return it to your address, or you can drop your laptop or computer off with us.
IT Support & One to One Tuition Didsbury
We also offer one to one tuition and training, whether it is setting up a printer, Wi-Fi or basic to advanced computer and laptop maintenance. If you are a business owner in Didsbury we can help you with web site design, search engine optimization (SEO), computer maintenance, laptop repairs and upgrades. Whatever your problem you have big or small, Fix Computers will give you a solution at a fair price with quick turnaround and excellent customer service. Call us today for a chat!
Computer Repair Quote
Got a query? Want a quote? Fill in all sections for a quick reply.